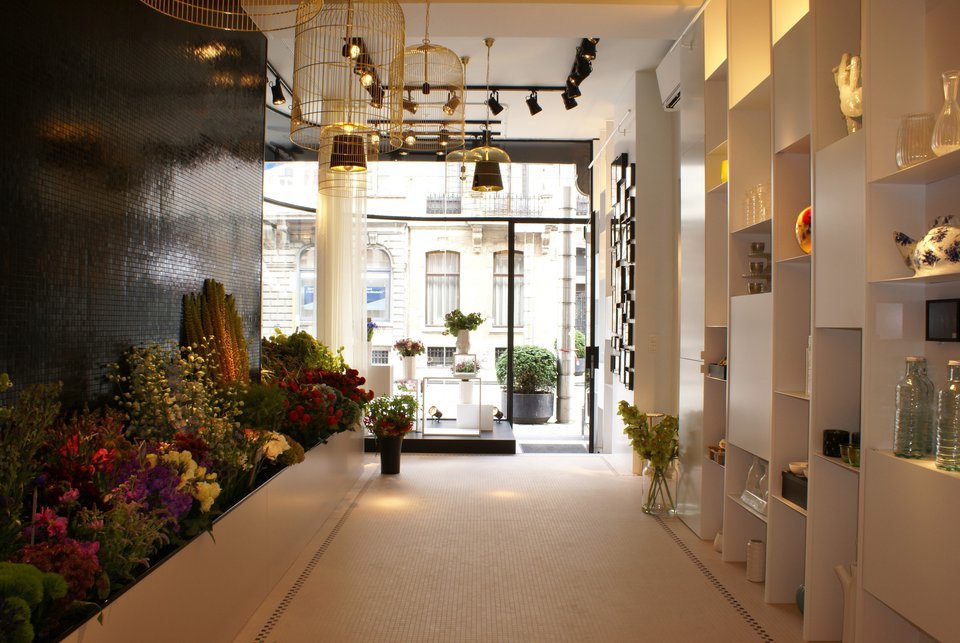 Eva Bos already owned a wonderful clothing store when she approached JUMA architects. Aside from fashion, she shares with her sister Barbara Bos a passion for flowers. When they had the opportunity to rent the adjacent building, the sisters Bos contacted JUMA architects for the renovation and transformation of the former temp agency into a flower shop.
The original Bos clothing store formed a very suitable starting point for the design process. Art Deco detailing, mosaic floors, old theatre lights and walls covered with sheer curtains. All these aspects were reinterpreted by JUMA to create a certain sense of continuity between the two stores. While the dominant colours in the first store are gold and black, the new store looks a lot fresher through the abundant use of old pink and white. The design of the façade was based on the symmetrical reflection of the peculiar front window of the original shop, namely a round arched window that forms a quarter circle.

The property to be renovated was characterized by its long, narrow floor plan and high ceilings. An elongated low unit in which all the flowers can be presented accentuates the depth of the new store. This unit functions like a huge 'flower box'. Its design originated in JUMA's desire to move away from the traditional stacked display most flower shops use to present their products. The 'flower box' is positioned against a black wall finished in mosaic that brings out the colours of the flowers. A custom-made steel closet is positioned on the opposite wall, its playful vertical rhythm accentuating the height of the ceiling. Vases and other decorative items are displayed on the open shelves in this closet; the closed surfaces discreetly hide storage spaces for stock. In the back of the store is the counter which acts as a multifunctional island. It accommodates the cash register, provides ample space for the making of bouquets and also doubles as a small bar where customers can enjoy a cup of coffee.